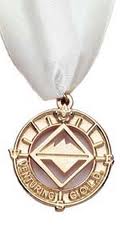 Requirements
Edit
   The Venturing Gold Award program is designed to permit adaption of certain phases of the program so that all Venturers may work for and achieve the award. In order to offer a challange to Youth, and in the interest of maintaining a standard of qualification, minimum requirements have been astablished that must be met before the Gold Award can be presented to a Venturer. These requirements are:
The candidate must have at least 12 months tenure as an active registered Venturer before qualification.

Earn at least one

Bronze Award.

The candidate must have been an active member of the Venturing crew, and served in one or a combination of

Leadership roles

within the past 12 months (roles may be concurrent) as follows
For Leadership Within in the crew

A team leaders' council member or committee member

An activities chairman for one of the crew's two-day activates or super activity

For Leadership Outside the crew

An elected youth officer of a religious or school organization.

An elected or appointed team member.

The candidate must have participated in a District, Council, Area, Region, or National Venturing event.
The candidate must, in consultation with the Advisor or a member of the crew commite, set and accomplish one personal growth goal related to each of the following areas: Citizenship, service to others, community/Family, Outdoor Experience, and total fitness. (Six Personal Growth goals.)
The candidate must plan, prepare for, and lead to completion two or more crew activity projects that relate to at least two of the following areas: citizenship, leadership, service to others, community/family, outdoor experience, and total fitness.
The candidate must be able to recite the

Venturing Oath

The candidate must submit three

Letters of Recommendation

to the crew advisor.

The Candidate must have qualified for the Gold Award before 21st birthday.
Community content is available under
CC-BY-SA
unless otherwise noted.